In the fast-paced and interconnected world of online shopping, ecommerce marketplaces have revolutionised the way we buy and sell goods. As this industry continues to evolve, brands should be aware of growth opportunities not only on various marketplaces in their region, but marketplaces outside of their regions as well. 
When brands start to understand the size of the potential prize on global marketplaces, it becomes clear that a broader focus needs to be part of their strategy.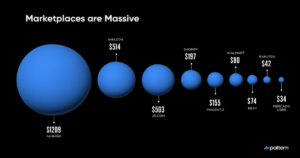 As a global ecommerce accelerator, Pattern employs several strategies to keep track of the state of ecommerce and stay up-to-date on how to best serve brands on marketplaces around the world. Through our unmatched data analysis work, deeply knowledgeable teams, and our extensive global network, we provide our brand partners with the most relevant and effective strategies to succeed in the global ecommerce market.
Read on for the current state of ecommerce in the largest marketplaces throughout the world.
State of Ecommerce in Americas
Including marketplaces in both North and South America, the Gross Merchandise Value (GMV) of the Americas adds up to a little over $1 trillion, as of the end of 2022. (see diagram below)
The massive opportunities for growth in the Americas include marketplaces like Amazon (including regions like Mexico, Canada, and Brazil), Mercado Libre, Walmart, eBay, and Target +.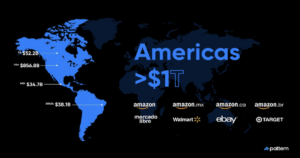 State of Ecommerce in EMEA
The GMV for the EMEA (Europe, Middle East, and Africa) regions came in at over $500 billion as of the end of 2022. 
Marketplaces that continue to grow within the EMEA region include Amazon (United Kingdom, France, Spain, Germany, Italy and United Arab Emirates), eBay, Rakuten, and Zalando. The various marketplaces throughout the EMEA region have very different regulatory and cultural landscapes, making it a complex area to expand to without the right expertise and data.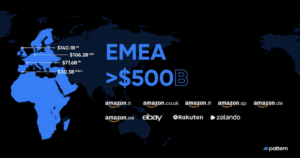 State of Ecommerce in APAC
The GMV for the APAC (Asia-Pacific) region at the end of 2022, came to a little over $3 trillion. China itself has over $1.3 trillion of GMV, which shows the huge opportunities for brands that are selling in China. 
The APAC region has massive opportunities for brands expanding into marketplaces such as Tmall, JD.com, eBay, Flipkart, Shopee, Coupuang, and Lazada.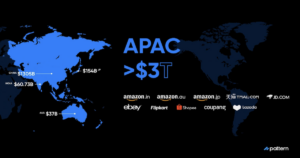 Expand Your Brand to Global Marketplaces With Pattern
As marketplaces continue to grow and dominate the way consumers prefer to buy goods online, the opportunities available to brands on these expanding marketplaces are massive. With the right brand partner or trade partner, brands can see the success they hope to achieve globally. 
As a global ecommerce accelerator, Pattern helps brands expand their business both domestically and internationally. Pattern's partner-obsessed approach to ecommerce acceleration helps us to prioritise what's best for our brand partners' long-term profitability on various marketplaces. Our expert teams know the ins and outs of ecommerce marketplaces around the world, and we love talking about strategy with brands looking to grow.
Learn how Pattern can help your brand expand. Contact us here.