Please note, any references to MAP pricing, price control or similar do not apply in countries outside of the U.S. and should therefore be disregarded by readers outside of the U.S. Please
contact us
with any questions.
Live stream video is a great way to engage your followers on platforms like Instagram and Facebook. It's also a great way to engage potential customers on Amazon.
Amazon Live, a fairly recent addition to the platform's ecommerce tech, is the platform's free video feature that allows brands to market their products in a more dynamic way than through basic ad spend. With Amazon Live, you can do things like construct your product, show your product in action, host Q&As about your brand, or offer special discounts, all in front of a live audience of interested buyers who can easily access your product listings below your video and interact with your brand. It's essentially the Instagram Stories and YouTube hybrid of Amazon.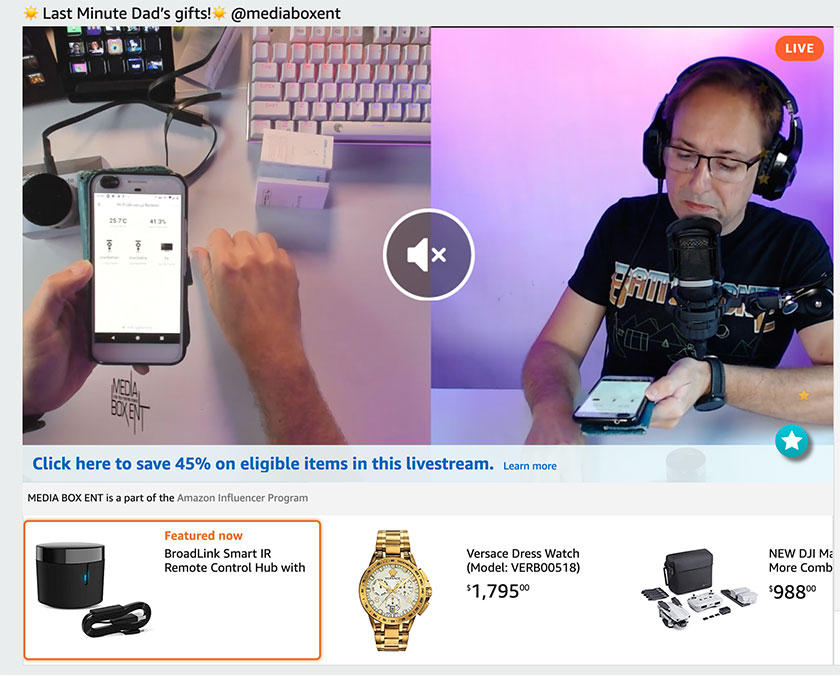 The biggest question about Amazon Live for ecommerce practitioners is, does it increase sales? Is it worth it for your brand or is it worth passing over?
Pattern worked with our brand partner Coravin to put Amazon Live to the test.
Coravin: A case study
To test if an Amazon Live event would have any effect on sales, our creative team put together a high quality promotional video featuring a demonstration of Coravin's wine preservation system to go live on Amazon.
The video launched on December 14th, 2019, twelve days after Cyber Monday. The promotion ran for eight days, and during that time period, the video was rebroadcast on December 18th and again on the 20th. Consumers were also directed to the video through links on social media and in email.
Here are some of the biggest insights from the Coravin Live Event:
Viewer engagement
From the promotion's launch on December 14th to its completion on December 21st, the Amazon Live video was viewed 15K times. On average, it was viewed 3-5K times a day, with our analysts reporting that viewers were "highly engaged."
When it launched on the 14th, the live event had a click-through rate of 12.5% and 697 viewers. The amount of traffic on the video increased significantly during the two rebroadcasting periods.
One thing analysts noted is that viewers watched for 1-2 minutes on average and frequently joined and left the broadcast.
Sales and sessions
This is where the data gets really interesting. Pattern's analysts saw boosts across the board during the Amazon Live event: Sales increased, seller performance increased, page reviews increased, and sessions spiked. With an increase in seller performance, there was also an increase in organic traffic that increased sales.
Analysis showed that Pattern outperformed Black Friday eight days in a row from December 15th to December 23rd.
In the period following Cyber Monday, units jumped by a significant amount after the Amazon Live event began. At its peak day, the promotion moved more units than the amount of products moved on Black Friday.
From December 14th to December 21st, revenue stayed at a high amount over a period of eight days, compared to Cyber Monday when sales peaked on that day and then decreased.
While there are several factors to keep in mind that may have contributed to the increase of sales (such as a holiday sales period, social media and email pushes, rebroadcasts, etc.), there were noticeable and significant increases in sales during the Amazon Live promotion period.
Outside of popular holiday events, Amazon Live can still increase sales. According to Casey Hyer, Video Director at Pattern, Amazon Live videos will generally increase sales by 15%.
Amazon Live best practices to keep in mind
Just like photos on your Amazon listings, Amazon Live Events need to be high quality to perform well. Low-quality videos will affect the amount of people who are engaged and interested.
Another factor that influences engagement is if customers are able to watch with their sound off. Analysts for Pattern found most viewers watch videos on mute, showing the necessity for good graphics and closed captioning. The better the visuals are for your video, the better your brand will perform.
In summary
Amazon Live is one more tech offering that, combined with the other strategies you're using, can really help your ecommerce business pack a punch if you do it correctly. Through Pattern, you can get the resources and help you need to incorporate Amazon Live into your Amazon brand strategy and run a successful campaign that helps you build your brand, increase your seller performance, and reach new customers.
For more information about Amazon Live and partnering with Pattern, reach out below.