Amazon's recommendation system has been around since 2001 to improve the buyer's experience. The system is so powerful that it represents a total of 35% of Amazon's revenue.
The goal of Amazon's recommendation system is to help the customer get the most out of their purchase and boost conversions. One of Amazon's recommendation techniques that we'll be looking at in this blog post is its 'there is a newer version of this item' tag that you've likely seen on some product listings.
What is the 'There is a newer version of this item' tag?
'There is a newer version of this item' is a tag that appears on Amazon and can help point customers to the newest product. It's something you can include whenever there's a recent upgrade to one of your items. Here's an example of how it looks: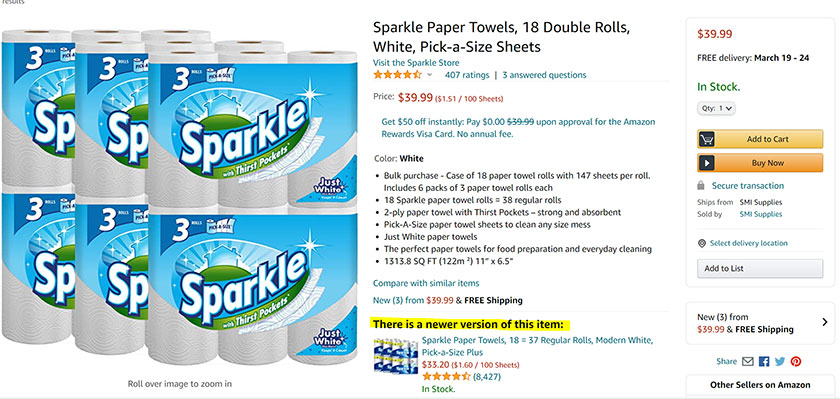 In the screenshot above, once the customer lands on the product page, Amazon notifies them that there's a newer version of the paper towels they're looking for. All the customer has to do now to check out the newer product listing is click on the add-on, and Amazon will direct them to the new product's page.
The Benefits of the 'There is a newer version of this item' Tag
When it comes to winning on Amazon, it's the little things you do that count. Adding the 'There is a newer version of this item' tag to your product page is a small change that can drive significant results, particularly when an old product is discontinued and replaced with the latest edition.
Amazon businesses should implement the tag for their store because customers love getting upgrades of the latest items. It's an excellent way to optimize your list and drive more traffic to your newest products without losing traffic to your older items.
The 'There is a newer version of this item' tag is also particularly useful if you're selling expensive items. Customers like to do more research on costly products, so they're ready to invest a couple of extra bucks to get the most recent version.
How to Get the Tag Implemented for your Amazon Product
You can do various things to implement the 'There is a newer version of this item' tag to your Amazon listing. The first option is to create a Seller Support case and request a listing update to the new ASIN; it could be useful to ask for the Amazon Catalog Team's help with the request. If that doesn't work, a second option is to escalate to Amazon's Strategic Account Services (SAS)–this is a fee-based Amazon service with an Account Representative who can troubleshoot and set up the connection between old and new ASINs.
To qualify to get the tag, your new product must have the same function, type, and style as the older version. Keep in mind that the widget isn't a tool for size and color variant products.
Or, you can also partner up with Pattern so we can take care of it. Just send us the link to your product's latest upgrade, and we'll make sure that the tag shows up on your product page. It's one of the many various solutions and support that we offer our clients on Amazon.