Since the demise of many physical Toy retail stores, online toy sales have skyrocketed. Online marketplaces such as Amazon continue to have great success in the toy market, dominating the sales of four major toy brands alone. Drawing on the results from our recent benchmarking report, we share our expert tips for selling Toys & Games on Amazon.
Showcase your brand content to stand out
Our team of researchers audited the Amazon presence of 10 popular brands selling Toys & Games on Amazon in both the UK and Germany, to judge how well the brands were being represented on the marketplace plus the customer experience provided.
We found that Toy brands tend to invest heavily in brand content on their product display pages, with 90% linking to a branded storefront and 60% including A+ content to their listings. Branded storefronts help shoppers discover your full product portfolio and related products on Amazon, while high quality premium A+ content uses integrated videos and enhanced visuals to increase consumer confidence.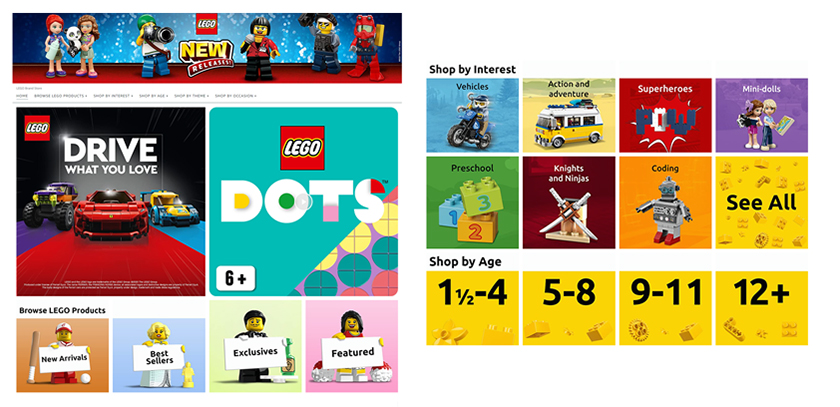 Why ratings and reviews matter when selling Toys & Games on Amazon
With so many choices of toys available for sale on Amazon, many parents look to product reviews to help make an informed purchase. Therefore good reviews are key to being a reputable seller on Amazon and will determine how well your products rank on the marketplace.
Ensuring your products have excellent rating scores and generally positive reviews will likely help to increase your conversion rate. Our researchers found that this is particularly important for brands selling Toys & Games on Amazon, where consumers are clearly engaged.
In fact, of the 10 categories analysed in our report, the highest average number of reviews was for the Toys & Games category – with an average of 2571 reviews per listing. To add to this, 100% of brands reviewed in the Toys & Games category had an average review rating of 4* and above on all three of their top listings.
Brand reputation is important
Digital channels have become an increasingly important route to market for brands in the Toy sector, particularly during COVID-19 where demand for Toy goods surged. Consumer surveys have shown that a large majority of digital shoppers now start their product searches on Amazon, whether that be to check for prices or look for product information or reviews.
The Amazon's Choice badge on product listings supports strong brand messaging and gives customers more confidence in their purchase choices. Not only this but the badge provides further legitimacy to your brand's product listings, and is given based on a mixture of popularity, high review rating and a low returns rate.
For brands selling Toys & Games on Amazon, having the badge present on your listings could be crucial in converting prospective customers who may be undecided or inundated with the volume of similar product listings on the marketplace. That said, our researchers found that only 30% of brands in the category had the all their product listings marked as Amazon's choice.
For many brands selling on Amazon, having in place an ongoing product optimisation strategy and ensuring ratings and reviews are continually monitored to use the insight generated to improve listings can be difficult and time-consuming without a dedicated team. We recommend that Toy brands consider external support to manage their Amazon presence and maximise marketplace sales growth.
Download the full report here to find out if your brand was one of the 100 consumer brands scored as part of our research.
To discuss further insights from the Toys & Games category on Amazon or to hear more about our Amazon Seller model, please get in touch here.